Chahta Tosholi: (n) interpreter of Choctaw knowledge; a person who helps us to understand the history and knowledge of our Chahta ancestors
This series is organized by Choctaw Nation Historic Preservation and features Choctaw community members, artists, culture keepers, scholars of Choctaw history, and other experts. To stay updated on upcoming events, sign up for our listserv here.
Next Event
Thursday, 23 July 2020 @ 1 pm
Teri and Curtis Billy, Chahta Anumpa Aiikhvna (School of Choctaw Language) Assistant Director and Choctaw Language Teacher
"Choctaw Language and Culture with Teri and Curtis Billy"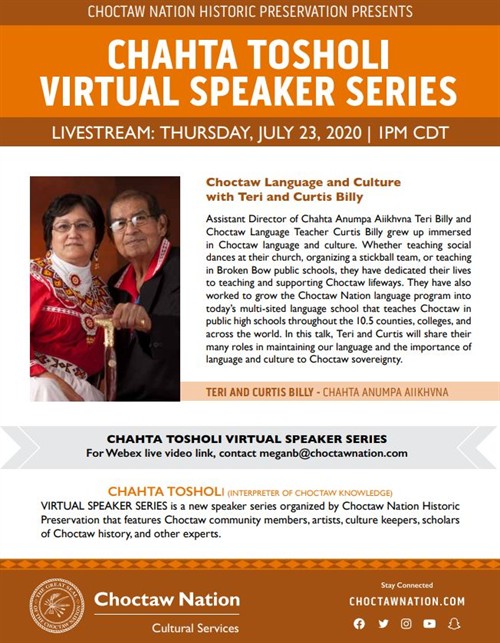 Upcoming Events
Friday, 7 August 2020 @ 2pm
Dr. Donna Akers, Associate Professor of Women and Gender Studies at University of Texas at Arlington
"Choctaw Removal with Donna Akers"
2-3 September 2020 @ 1pm
Sue Folsom, Olin Williams, Les Williston, Brenner Billy, Billy Eagle Road, Jared (Pinti) Tom
Generations of Choctaw Stickball, Part I
Generations of Choctaw Stickball, Part II
Friday, 18 September 2020 @ 2pm
Pierce Wright, University of Oklahoma
"X-rays, Lasers, and…Artifacts? Learning about the Past from Choctaw Archaeological Sites"
Previous Events
Friday, 10 July 2020
Dr. Scott Ketchum and Dr. A. Holly Jones, Professors at East Central University
"Native American Studies at East Central University with Scott Ketchum and A. Holly Jones"
Wednesday, 17 June 2020
Sarah Elisabeth Sawyer, Independent Author
"Choctaw Storytelling: A Conversation with Sarah Elisabeth Sawyer": Part 1, Part 2
Friday, 5 June 2020
Dr. Joe Watkins, Choctaw Archaeologist and President of the Society of American Archaeology
"Indigenous Archaeology: A Conversation with Joe Watkins"
21 May 2020
Ryan Spring, Choctaw Nation Historic Preservation Archaeological Technician
"Reconnecting with our Homelands: A GIS Approach with Ryan Spring"
6 May 2020
Dr. Christina Snyder, McCabe Greer Professor of the American Civil War Era at Penn State University
"Choctaw Academy Q&A with Dr. Christina Synder"
(Note: video starts five minutes in as Dr. Snyder responds to the question 'What interested you in working on Choctaw Academy')